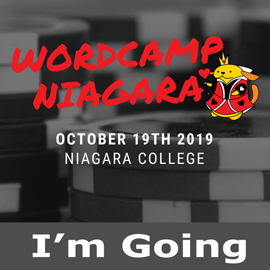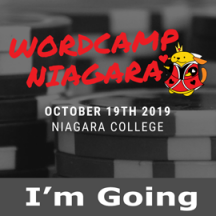 I won't be speaking, but I'm going to WordCamp Niagara.  After attending WordCamp Montreal in August, I really was reminded of all the great things about WordCamp, and I realized I need to get back to them.  Since 2011, I've attended 18 Wordcamps, most of which I spoke at. For the last 2 years other commitments have conflicted with the Ottawa, Montreal and Toronto WordCamps often preventing me from speaking, and even attending.  Until this year, I've not missed an Ottawa WordCamp since I lead the founding team for the first Ottawa WordCamp in 2013!  I'm hitting a few WordCamps outside my normal loop this year as I've missed the learning and networking with other WordPress developers that I get at the WordCamps.
If you are using WordPress, and I assume you do if you are reading this, then WordCamps are great places to learn about WordPress.  They offer talks and training on wide variety of WordPress and related web topics at all levels of WordPress experience.  You also have the opportunity to meet people who are well versed in WordPress who can give help/insight and ideas on how to do things in WordPress. It's the Networking that is the number one reason for me to go. It's a great place to meet other developers, get new ideas and sometimes new clients with projects. At most WordCamps I usually attend a few sessions in the "hallway track" where I meet long time WordPress friends, many acquaintances that I only see at WordCamps, as well making new friends among the many attendees, speakers, sponsors and organizers.
Maybe I'll see you in Niagara?